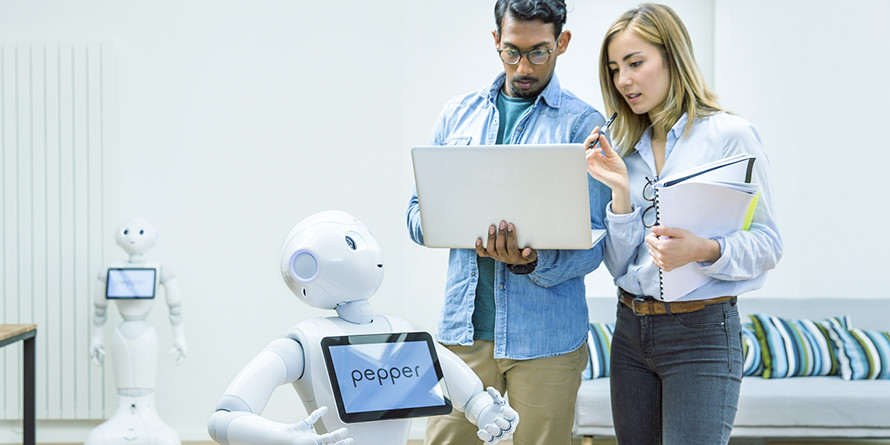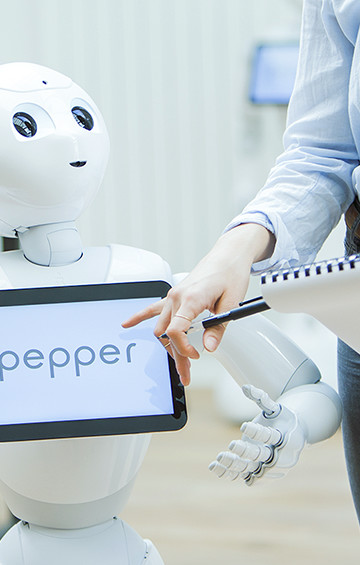 Company name

SoftBank Robotics Group Corp.

Description of business

As a holding company that oversees the robotics business in the SoftBank Group, the Company is engaged in management activities with the objective of investing in and growing subsidiaries. In this fiscal year, the Company also started to engage in research and development activities of robot products.

Established

January, 2012

Headquarters

1-7-1 Kaigan, Minato-ku, Tokyo JAPAN

Representative

Fumihide Tomizawa, President & CEO
Fumihide
Tomizawa
President & CEO
SoftBank Robotics Group
Fumihide Tomizawa began his career at Nippon Telegraph and Telephone Corporation in 1997 before joining SoftBank Group in 2000. He sat in various key positions in SoftBank Group's major business segments including broadband services and mobile communication services, and successfully led many new business ventures such as data communication services, new natural energy, and many JV establishments with global partners.
He was chosen to lead of the SoftBank's robotics project in 2011, which was founded to be the core bearer of SoftBank Group's vision, and became the President and CEO of SoftBank Robotics Group Corp. in 2014.
Kazutaka Hasumi
Board Director, Chief Marketing Officer
SoftBank Robotics
Kazutaka Hasumi has served on the Board of Directors in the content marketing division at SoftBank Robotics since 2014. He joined SoftBank in 2008 and was responsible for the content service department of SoftBank's mobile division. He also launched the company's e-book distribution service, "Viewn" as a board director.
Kazutaka started his career in the broadcasting industry by joining TV Asahi after graduating from Hitotsubashi University. During his time at the company, he oversaw the production of a wide variety of Japan's most famous and popular TV programmes, broadcasted across the nation, working as the primary producer.
Dai Sakata
EVP, Chief Product Officer
SoftBank Robotics
Dai Sakata is serving as Senior EVP at SoftBank Robotics Europe and has been managing the Software, IT, Cloud, Fleet and Product teams since 2016. For more than 10 years, he has been leading various product planning and development in eAccess (acquired by SoftBank) and SoftBank Group Corp.
Kenichi "Kent" Yoshida
EVP, Chief Business Officer
SoftBank Robotics
Kenichi "Kent" Yoshida is serving as the Executive Vice President and Chief Business Officer at SoftBank Robotics, leading the SoftBank robotic project for the past 4 years since the beginning of the project. Prior to joining SoftBank Group, he was a co-founder and COO of an enterprise software startup company called Realcom and led the company to IPO.
Kent has been working at starting new businesses in SoftBank since 2010.
Kazuo Nohara
EVP, Chief Finance Officer
SoftBank Robotics
Kazuo Nohara first worked as a general affairs and accounting in a real estate company and transitioned into SoftBank in 1994 via J-Phone and Vodafone Japan, has over 30-years-experiences of finance, accounting and tax, In that field, he was also responsible as corporate auditor, and managed projects of business improvement and internal control.
He is now serving as a head of Corporate Management Division, CISO in SoftBank Robotics besides CFO, CCO in SoftBank Robotics Group.
Akiho Shibata
EVP, Chief Technology Officer
SoftBank Robotics
Akiho Shibata is serving as the Executive Vice President and Chief Technology Officer at SoftBank Robotics. He has been leading the technical project of our robotics products since 2014.
For more than 10 years, Akiho Shibata has been leading various product planning and development in SoftBank Corp.
Xavier Lacherade
Senior EVP, Chief Technology Officer, Hardware & Innovation
SoftBank Robotics Europe
Xavier Lacherade has gained a strong background from his 18+ years in Healthcare Industry, with a focus on both Manufacturing and Engineering positions. He has led many new product launch projects and been an integral member of the design, development and qualification process. Always eager to learn and improve, Xavier has his certified Six Sigma Green Belt and brings his expertise in all technical processes at SoftBank Robotics.
Alain Hui Bon Hoa
VP, Chief Services Officer
SoftBank Robotics Europe
Alain Hui Bon Hoa has fifteen years of experience with General Electric, where he held several senior leadership positions in Operations and Strategic Projects. He brings strong experience in developing Fleet services, driving customer centricity and leading large teams in a matrix organisation structure.
Nicolas Boudot
VP, Sales & Marketing EMEA
SoftBank Robotics Europe
Nicolas BOUDOT, Vice President of Sales and Marketing is in charge of the company's business activities for Europe, Middle East and Africa region.
With more than 30 years in the field of Humanoid Robotics, Software development and Information Technology, Nicolas succeeded in developing new markets, creating robotic ecosystem and driving business achievements. He gained wide experience in B2B solutions from both the user and vendor perspectives across various industrial verticals: Retail, Hospitality, Healthcare, Education and Public services.
Graduated from EFREI, for over 15 years, he has been succesfully developping and driving european business in the Electronic Design Automation industry for companies such as Cadam, IBM, Altium. Prior to join Aldebaran in 2011, he led the european business for St Bernard Software, a key player in the field of IT Security.
Julien Seret
VP
SoftBank Robotics America
Julien Seret brings an in-depth understanding of a wide range of technologies and business models in diverse industries. He held business development and technical marketing positions at STMicroelectronics, Archos and Gostai.
He successfully launched complex B2B products ranging from national e-ID card programs, secure payment solutions, to the first 3G-enabled tablets and telepresence robots.