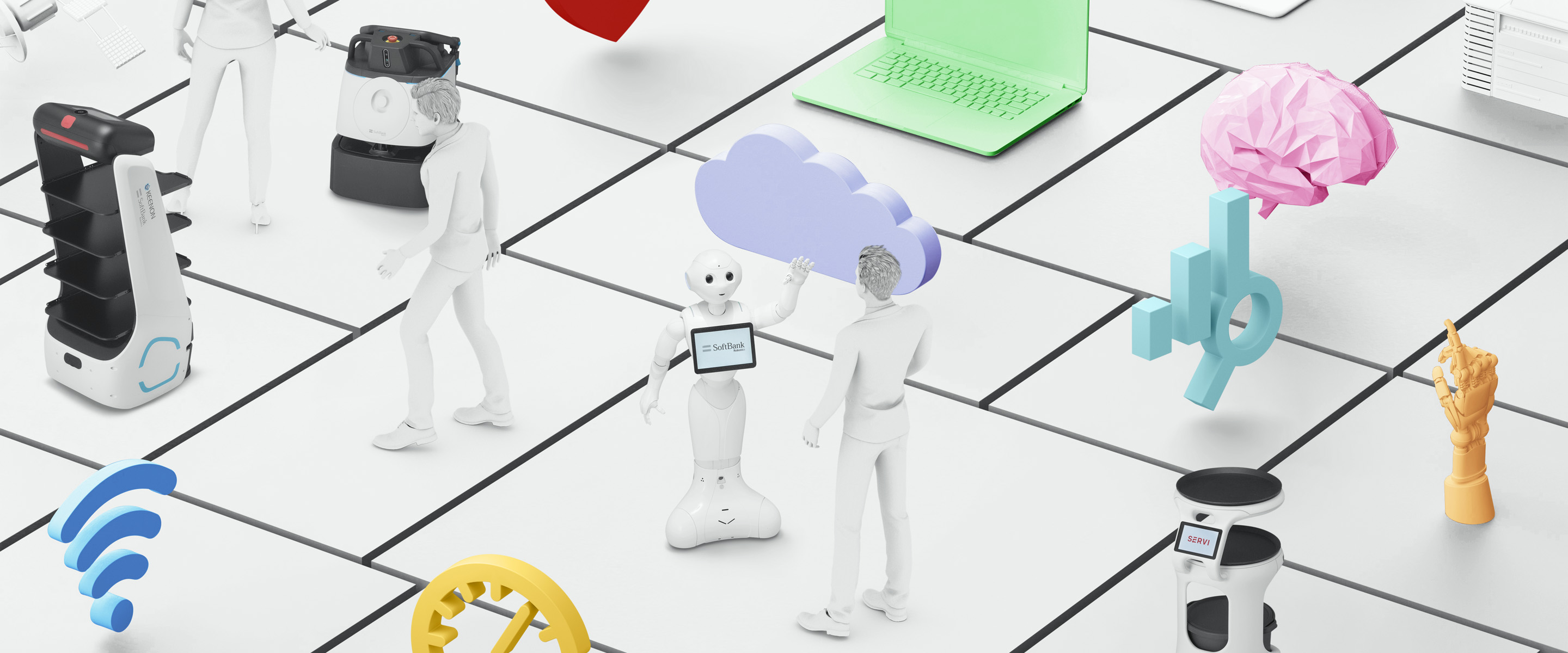 The challenge today is no longer how to build robots.
It's how to get the most out of them
We provide comprehensive services for both business enterprises considering robots to optimize their business and robot manufacturers developing new products and services.
Consultation and deployment for clients to introduce robotic solutions
We deliver optimal solutions using our cutting-edge robotics and AI technology to support the transformation of work. We are able to further enhance these efforts with our vast accumulated knowledge, robot operation data and global network.
CLEANING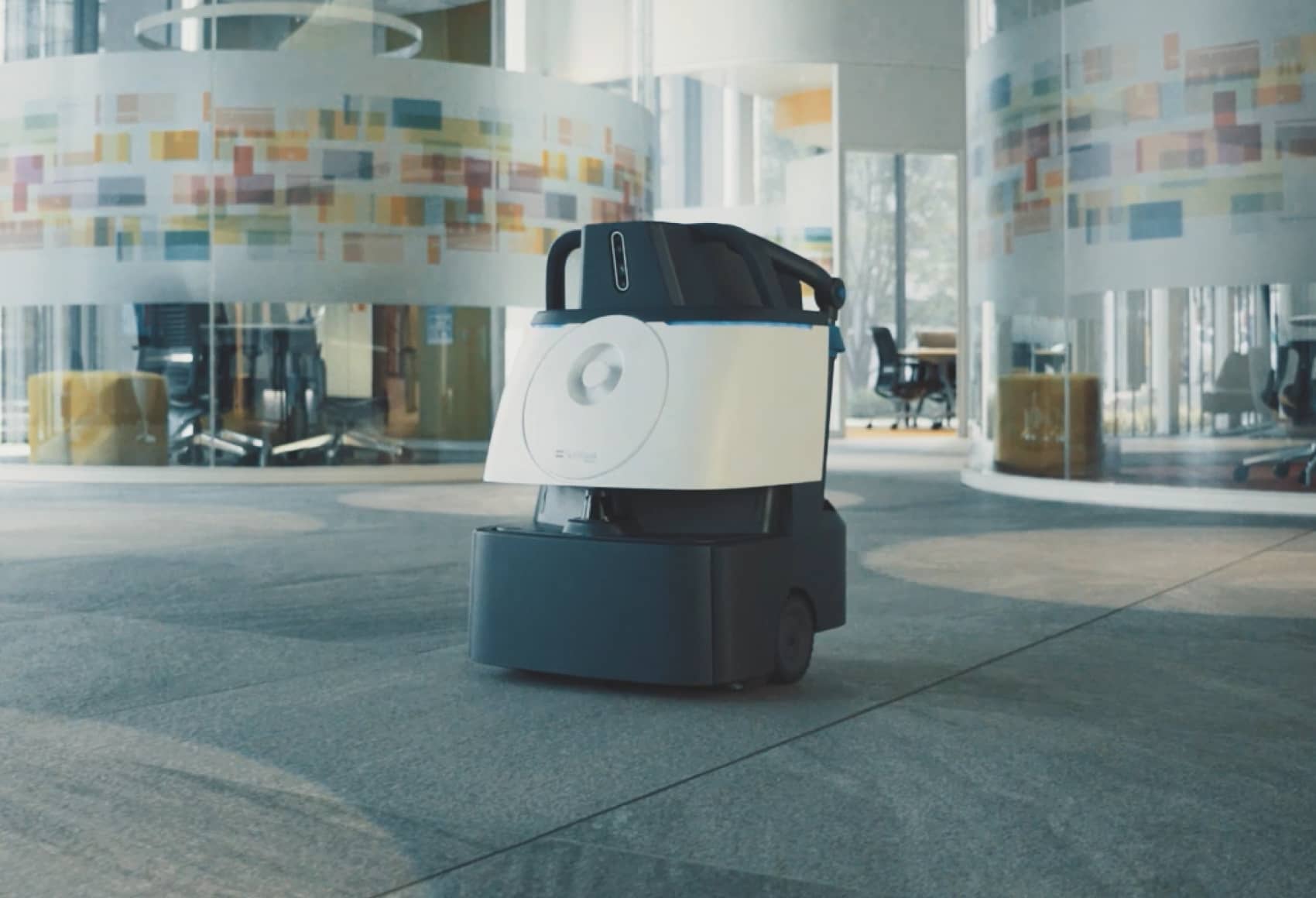 Smarter facility cleaning
with robotic solutions
and advanced data
SoftBank Robotics helps improve facility operations with our cleaning robots and AI solutions. We have accumulated data and learnings since 2017, when we launched our first autonomous cleaning robot, Whiz. Since then, Whiz has cleaned 8 million km* of floor space around the world, and we will continue to propose new ways to optimize the overall cleaning process.
*As of March 2023, according to the data from "Whiz Connect" of SoftBank Robotics Group Corp.
DELIVERY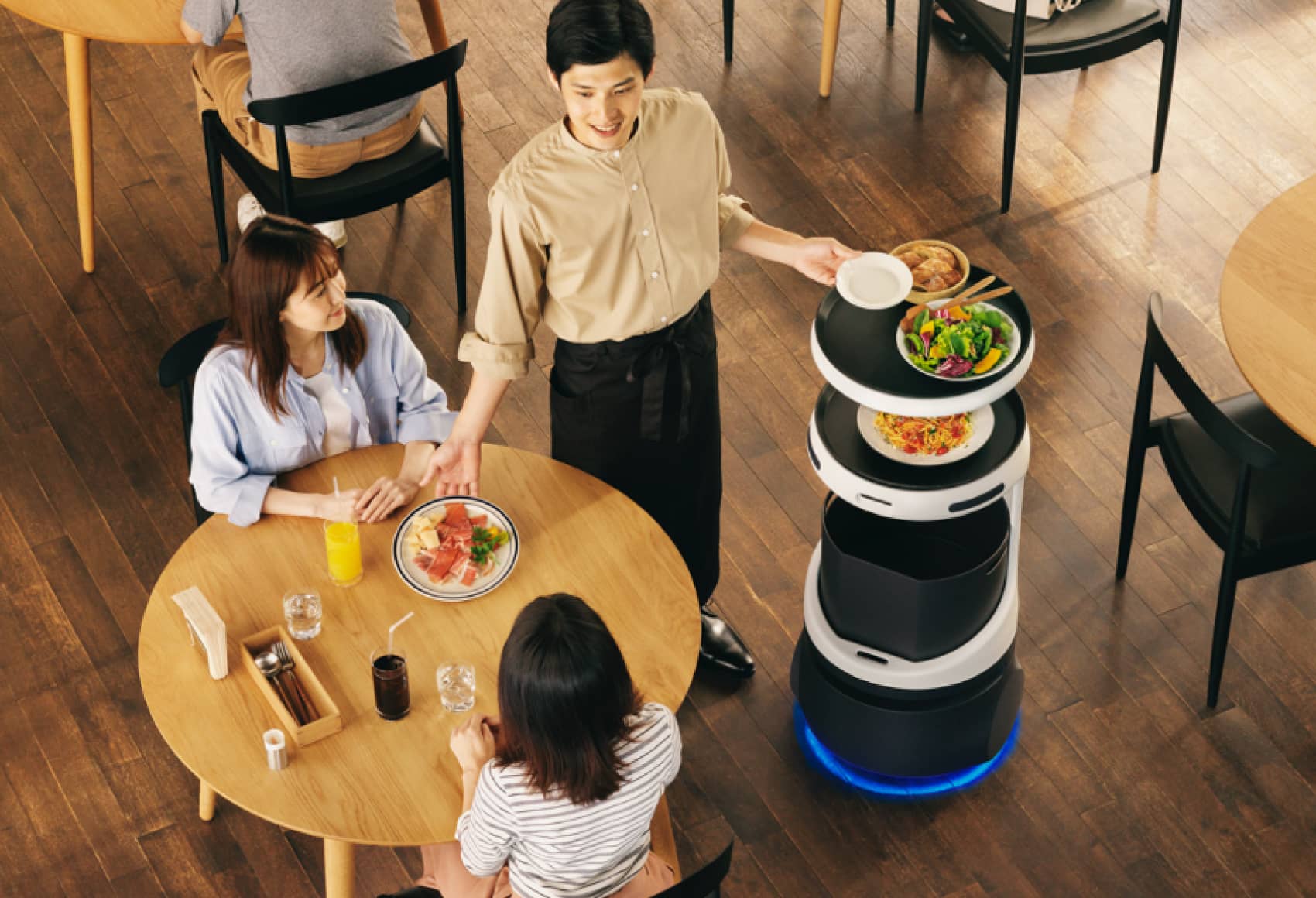 Drive Robot Tansformation (RX)* in the food and beverage industries with our tray delivery robots
We provide support to alleviate the challenges that our clients, in the restaurant and hotel industries are facing; more specifically, labor shortages, high cost of human resources and customer satisfaction. From our full suite of food delivery robots, we help businesses determine and deploy the optimal model (from compact models to larger more robust models) for their specific environments. We help our clients fully optimize their robots through RX consulting, including integration with operational systems and ordering systems.
*Robot Transformation (RX):Digitalization using robotics
HUMANOID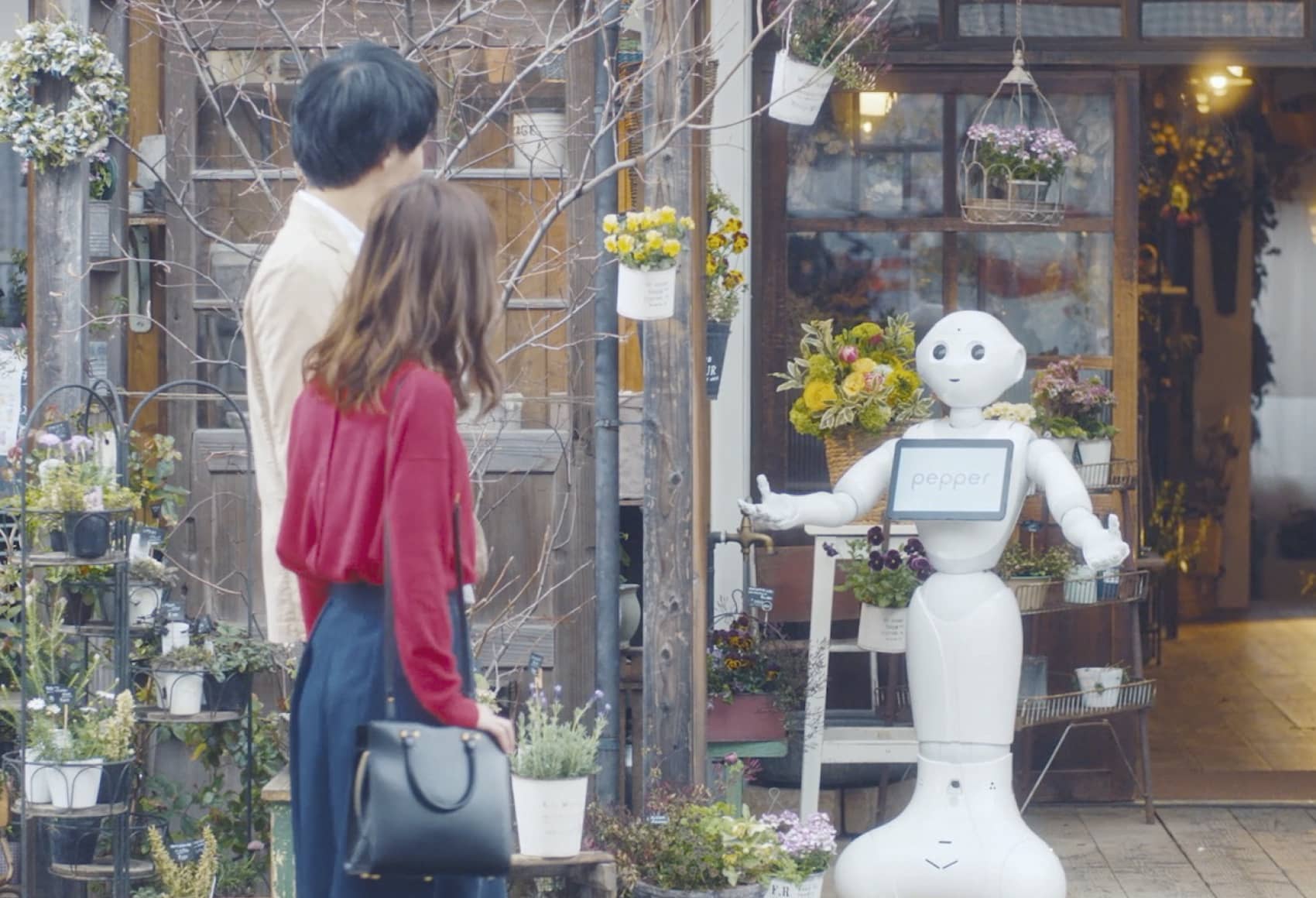 Humanoid robots widely utilized across various fields
such as education and customer service
Our humanoid robots communicate through voice and tablets on their chests to attract people and make them smile. They are used in commercial settings to help serve and delight customers. Movements and conversations of the robots can be easily programmed, and they can also be utilized for programming educational content at educational institutions globally.
LOGISTICS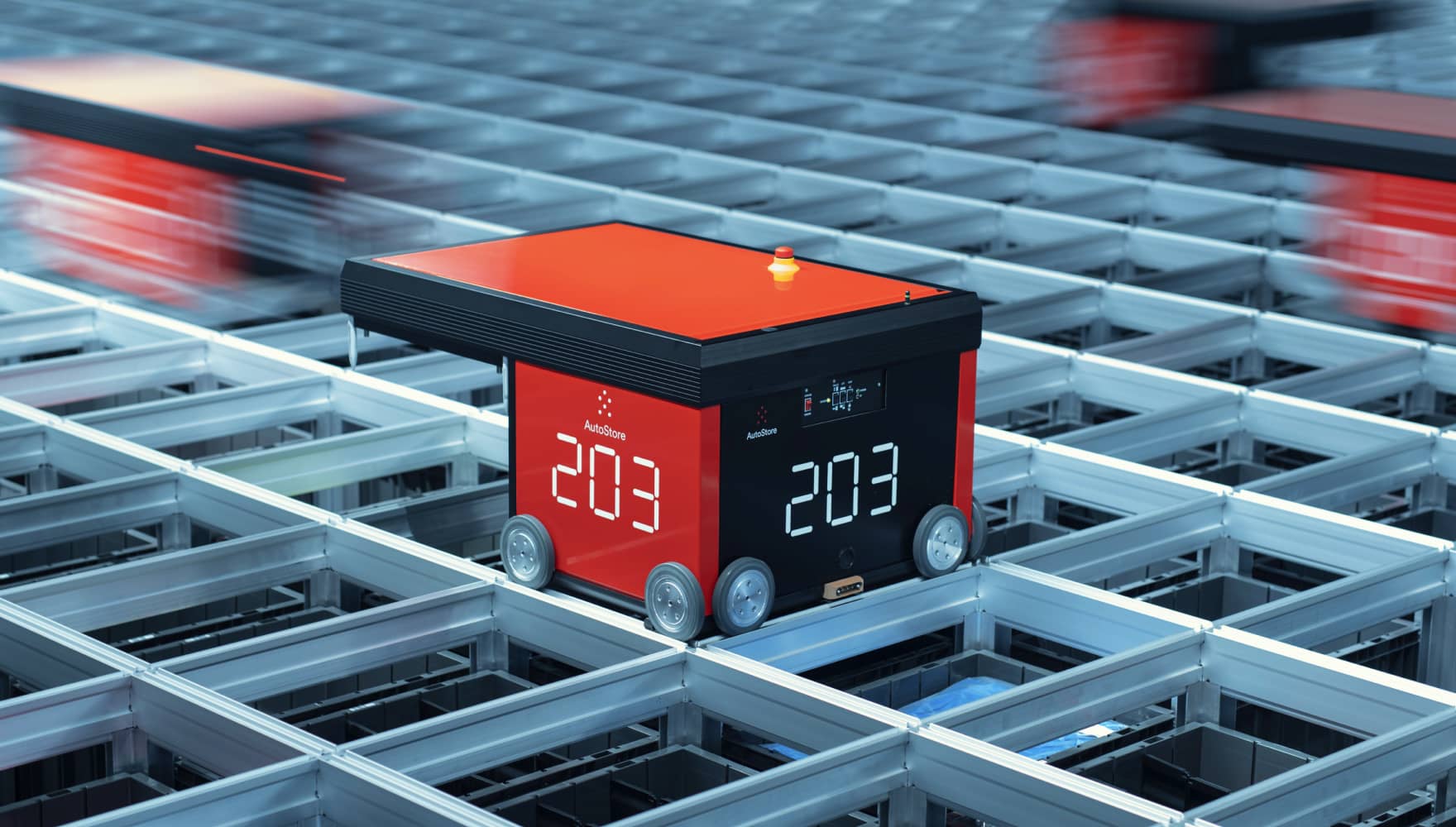 Reimagining technology. Reinventing logistics.
The logistics industry has faced a variety of challenges in recent years, such as the increasing demand and expansion of e-commerce and rising costs due to soaring energy prices. Under these circumstances, there is a need for optimization and efficiency in all aspects of the logistics industry, from transportation to warehousing operations. We propose introducing automation not only at the warehouse stage of the process, but throughout the entire process to optimize operations. These process improvements are driven by our global network and knowledge of various AI and robot logistics technologies.
SOLUTION 2
Universal
Data Platform
Our proprietary data platform
to optimize your robotic solutions

We developed a proprietary data platform to meet the needs of the market, allowing operators to manage multiple robots and services through one single interface. The data accumulated through this platform will be used to: 1.improve the operational efficiency of the business with deployed robots, 2.propose dynamic solutions to customers who are considering deploying robots, and 3.provide development, mass production, and maintenance support to robot manufacturers.
Case Study
We support RX (Robot Transformation) of our clients in various industries by maximizing use of "SoftBank Robotics Universal Data Platform".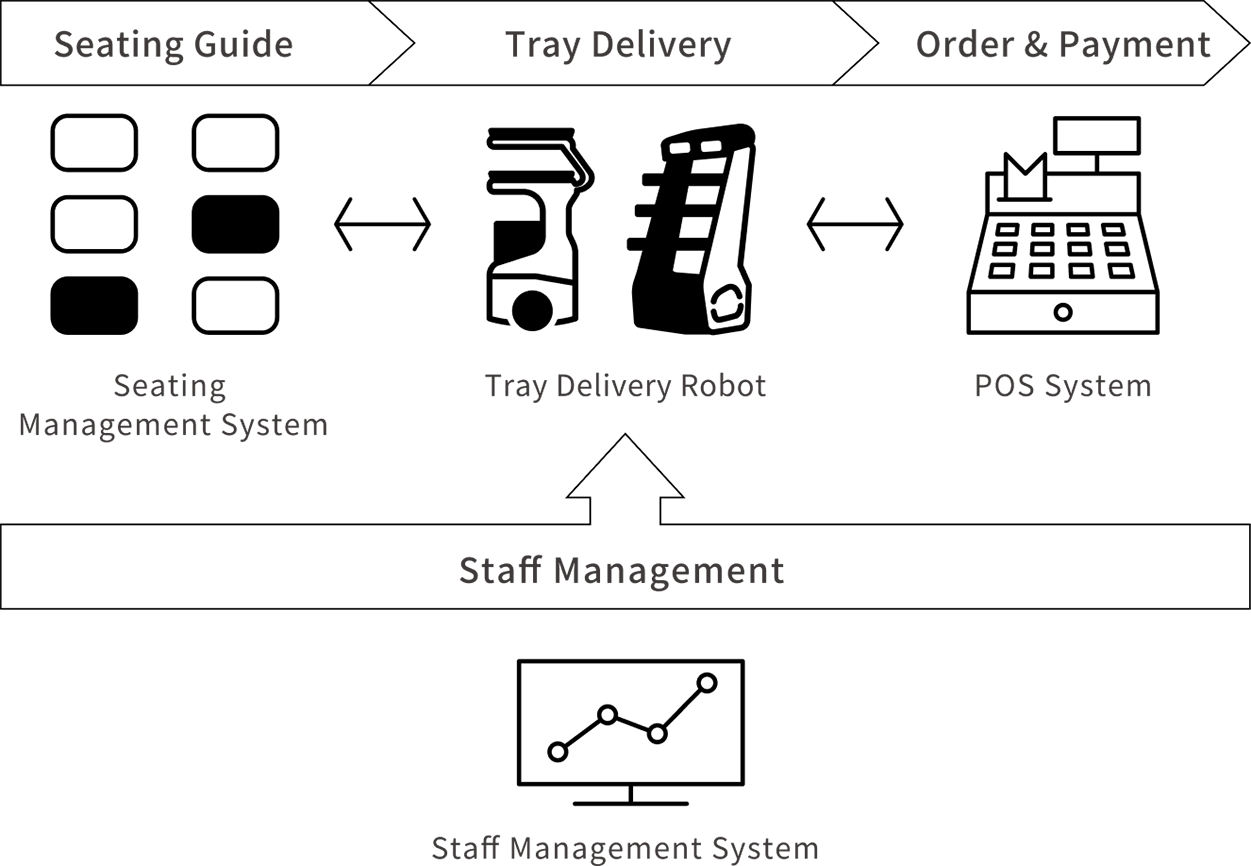 Case 01 Food and Food Service
Drive restaurant's RX to optimize its business, connecting robots and operational systems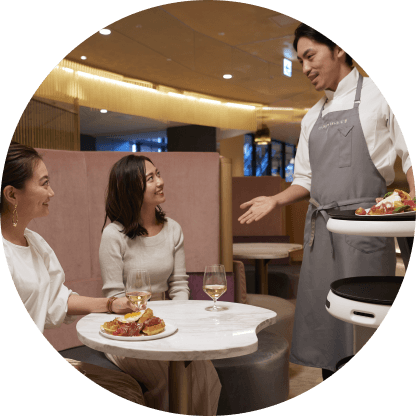 Optimize restaurant operations by connecting our tray delivery robots with operational systems such as "POS systems" that manage data on sales, prices, and items sold and "seat management systems". We are currently developing a system that links our tray delivery robots and tableside ordering tablets in collaboration with NEC Platforms, Ltd.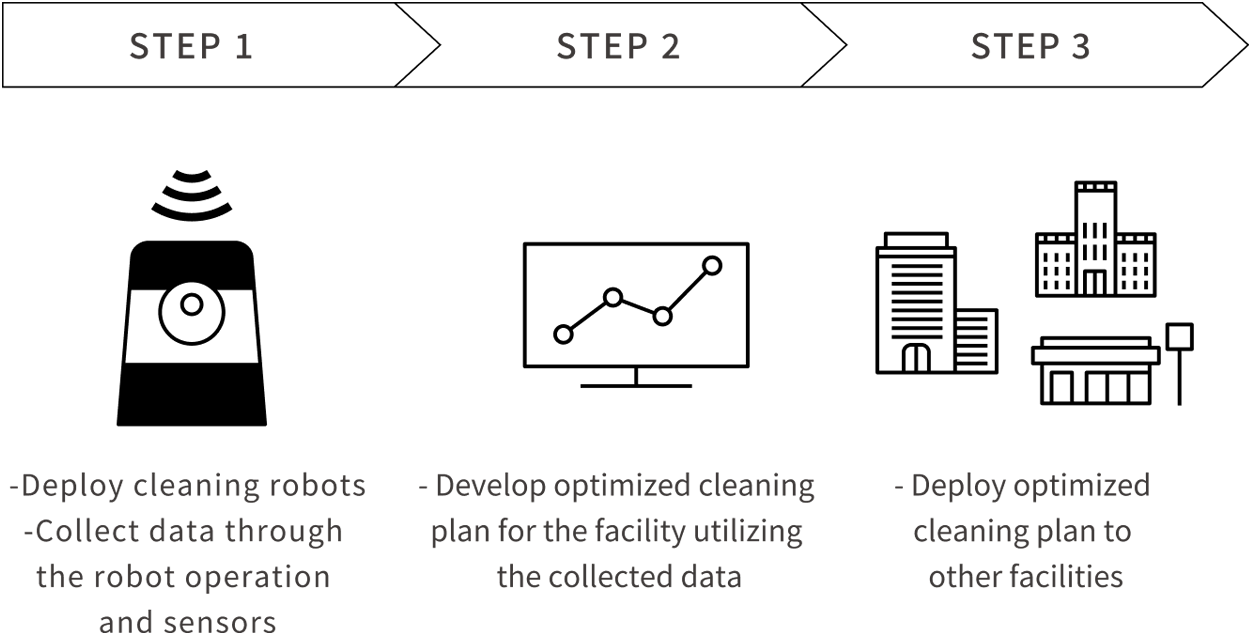 Case 02 Facility Management
Optimize facility cleaning by analyzing accumulated data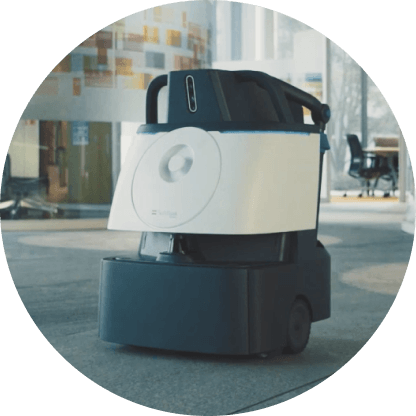 Optimize facility cleaning operations by analyzing the data collected daily by our cleaning robots.The data collected from one facility can be utilized for further optimization of multiple facilities' cleaning operations.
SOLUTION 3
Robot Support
Service
Consultation and support
for robot developers and manufacturers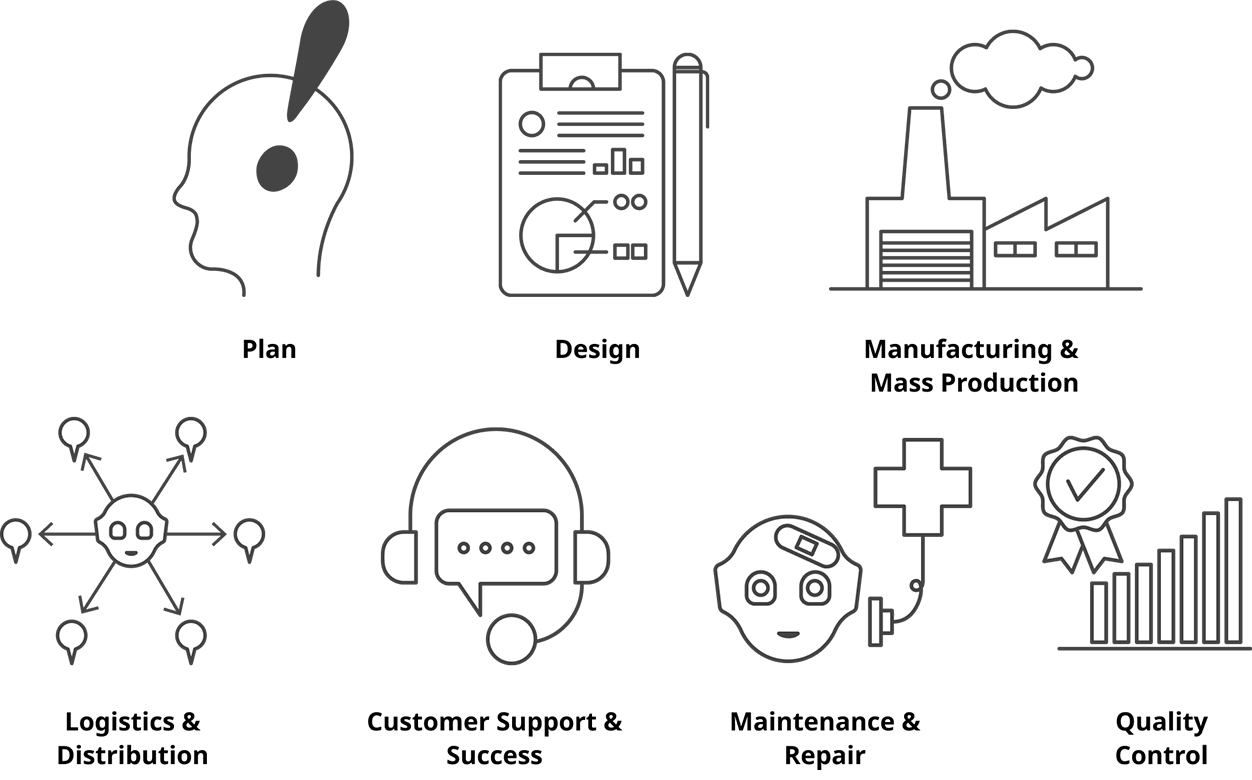 We consult and offer support for robot developers and manufacturers, including product planning, development, mass production, quality control, and maintenance support, utilizing our knowledge, data and global network as the world's #1 provider of indoor service robots for businesses. We support robot manufacturers facing various challenges and even contribute to the revitalization of the entire robot industry.